Pentaho vs Pyramid: A comprehensive comparison and Roadmap for Migration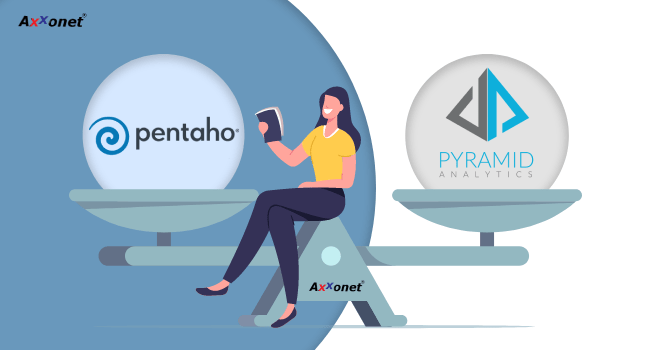 Hitachi Vantara Pentaho has been a very popular Commercial Open-Source Business intelligence platform used extensively over the last 12+ years providing a comprehensive set of tools with great flexibility and extensibility and hence used to be featured in the Analysts reports including Gartner BI Magic Quadrant, Forrester and Dresner's Wisdom of Crowds. 
Over the last 3-5 years, however, there has been a shift in the industry to the new Augmented era of Business Intelligence and Analytics and several niche Pentaho alternatives have emerged. Pyramid Analytics is one of these Pentaho replacement platforms and is consistently recognized as a leader in this space by several Analysts including Gartner, BARC, Forrester & Dresner having featured in their reports now for over 7 years in a row. 
Hitachi Vantara Pentaho hasn't been able to keep pace and has since been dropped from these analyst reports. This series of articles are aimed to help current users of Pentaho and other similar old generation BI platforms like Jasper who are evaluating Pentaho replacements or alternatives. We try to map the most commonly used modules and features of Pentaho BI Platform to their equivalent in Pyramid Analytics, comparing and highlighting the improvements and also presenting a RoadMap for migration.
Architecture Overview and Comparison

About Pentaho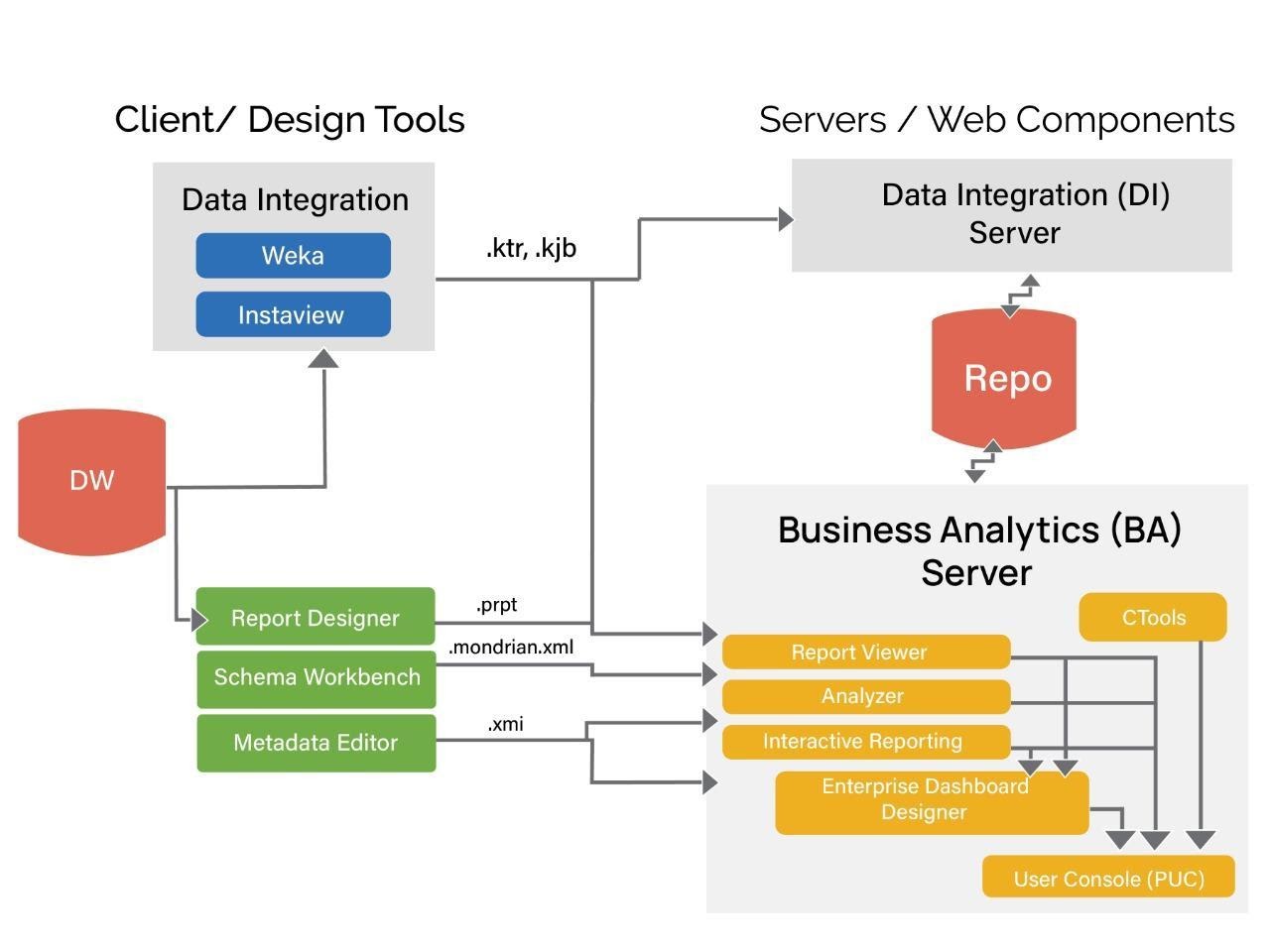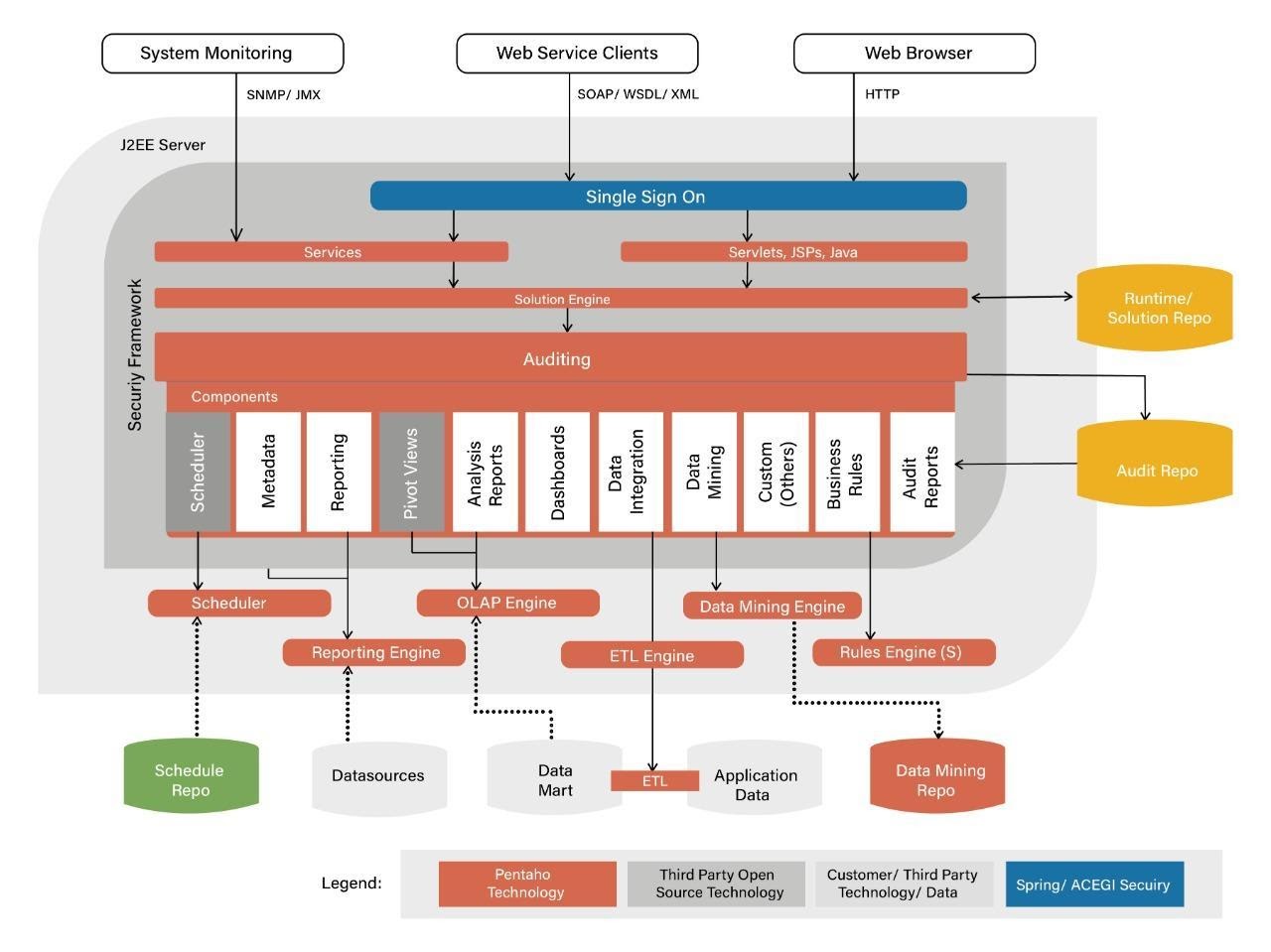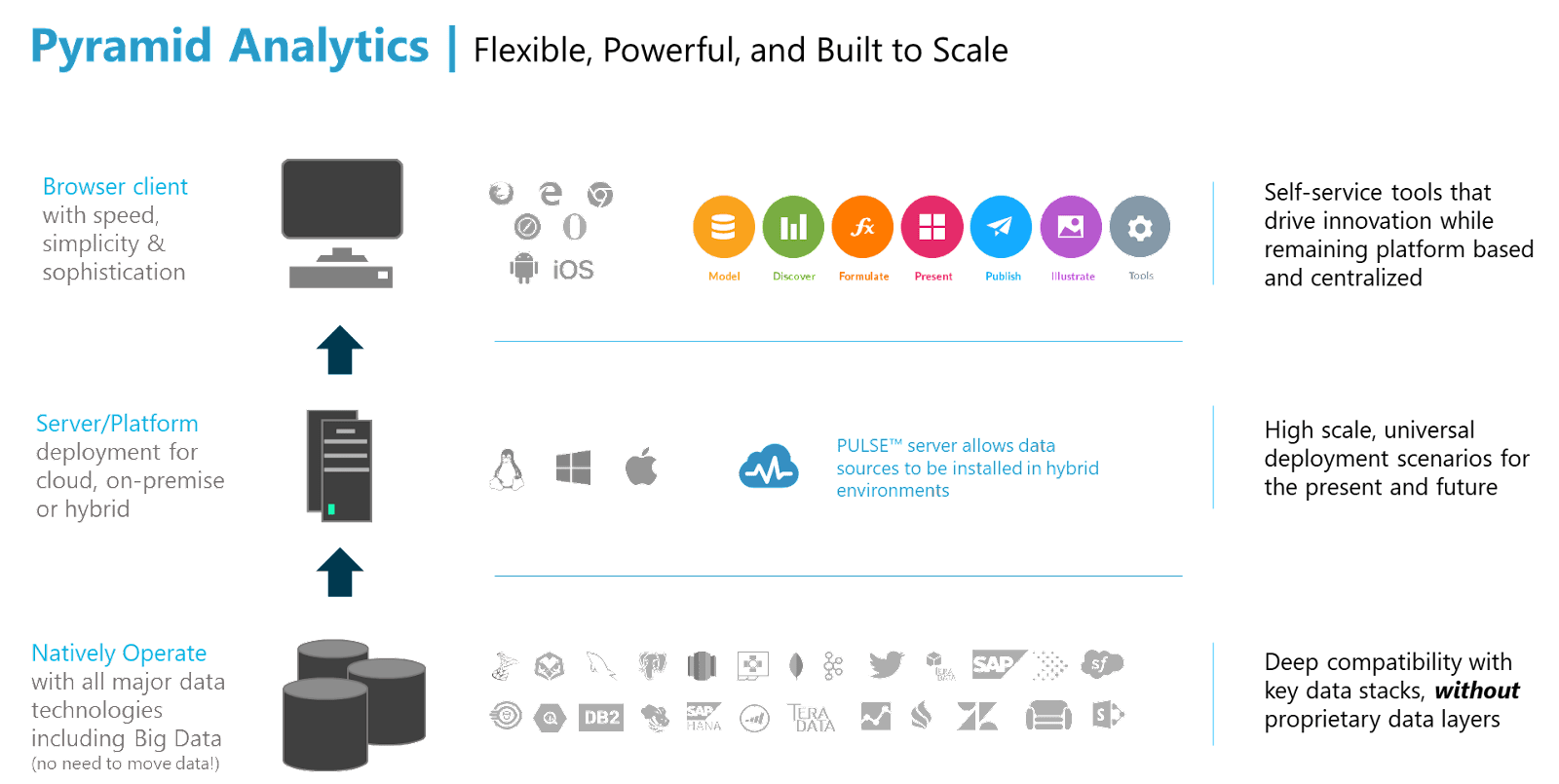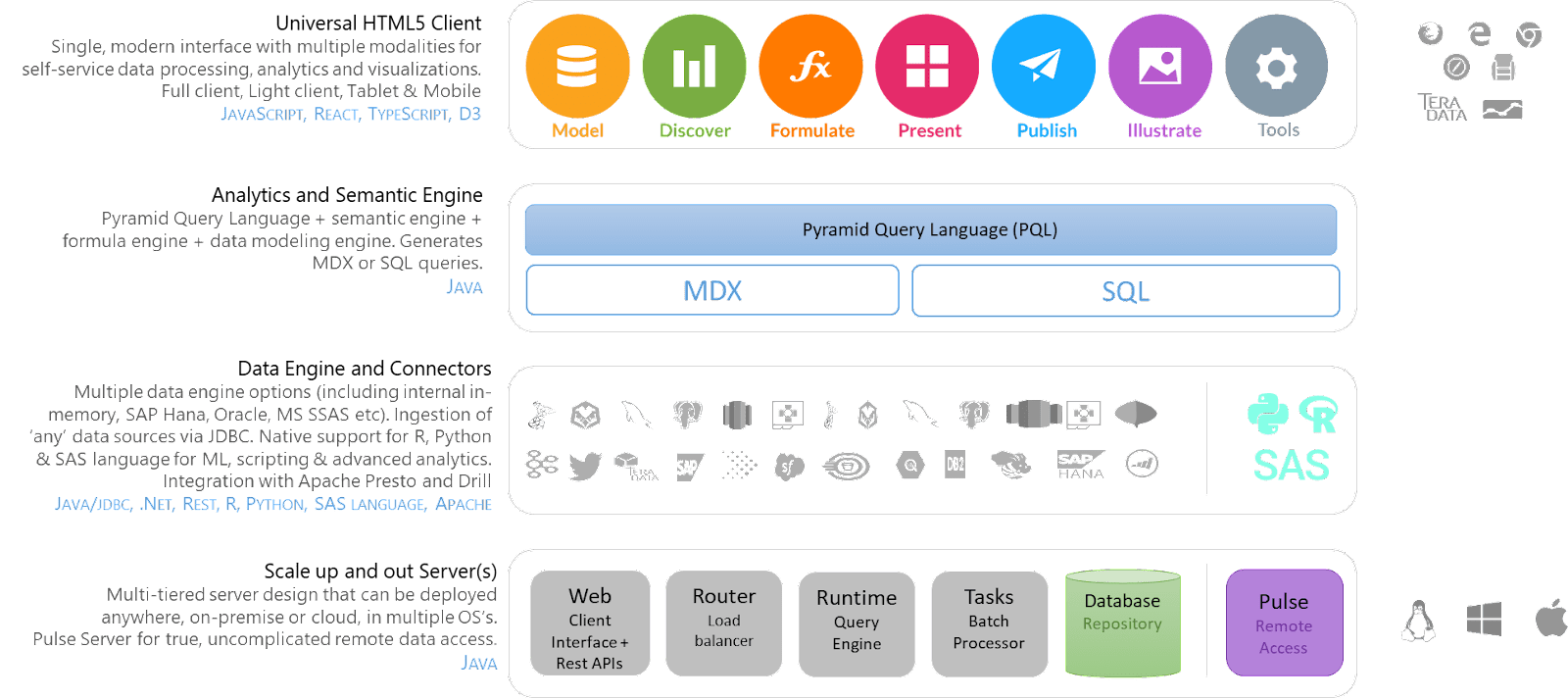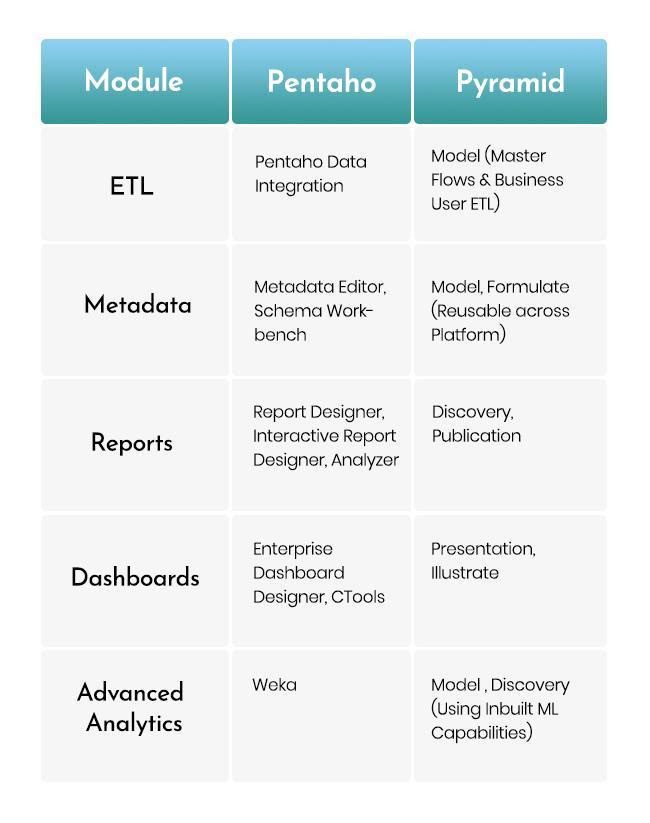 Key Platform Capabilities & Differentiators
We have listed some of the Key Capabilities of both Pentaho and Pyramid Analytics Platforms and highlighted differences in terms of how they are built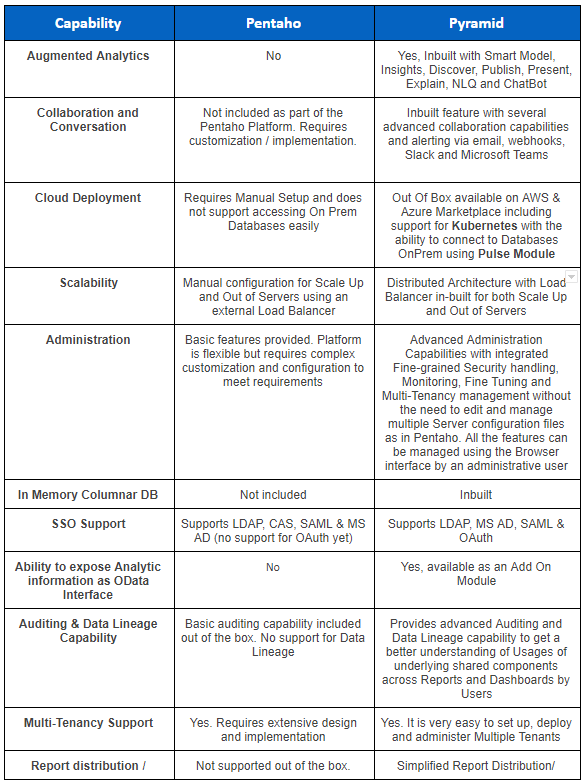 Decision Intelligence and Augmented Analytics
As per Gartner, Decision Intelligence & Augmented analytics is the use of enabling technologies such as machine learning and AI to assist with data preparation, insight generation, and insight explanation to augment how people explore and analyze data in analytics and BI platforms. It also augments the expert and citizen data scientists by automating many aspects of data science, machine learning, and AI model development, management, and deployment. 
Pentaho doesn't offer any Augmented Analytics or Decision Intelligence capability as part of its offerings. This feature makes Pyramid Analytics an even more solid Pentaho replacement option.
Pyramid offers augmented analytics capabilities in a couple of ways like Explain(NLQ & Chatbot). Smart Insights, Smart Model, Smart Discover, Smart Publish and Present, Data Structure Analyzer, Auto Discover, Auto recommendations. Among the most used are Auto-Discovery and Smart Discovery. It offers users the simplest method for building data visualizations in Pyramid through a simple point-and-click wizard. The wizard presents the user with an ultra-streamlined interface, consisting of the report canvas, the visualization menu, and a single unified drop zone.
Collaboration & Conversation

If there's some discussion or real-time collaboration required between business users around Report or Dashboard, Pentaho users usually need to use mail or similar to create discussion about any issue or pointers related to reports.
However, Pyramid Analytics not only has inbuilt collaboration and conversation features where any user can write a comment and share it with a single user or group of users it also offers a very powerful Custom Workflow API to support integration with other applications. Other users also get notifications about new comments and accordingly respond or continue the conversation.
Dashboard & Data Visualization

Pentaho's Dashboard Designer helps create Ad Hoc interactive visualizations and Dashboards with a 360-degree view of data through dynamic filter controls and content linking. Drag-and-drop, attribute highlighting, and zoom-in capabilities make it easy to isolate key trends, details, and patterns. We can also use the Open Source CTools component of Pentaho to build custom Dashboards but this requires highly technical Javascript skills. We can also integrate business analytics with other applications through portal and mashup integrations.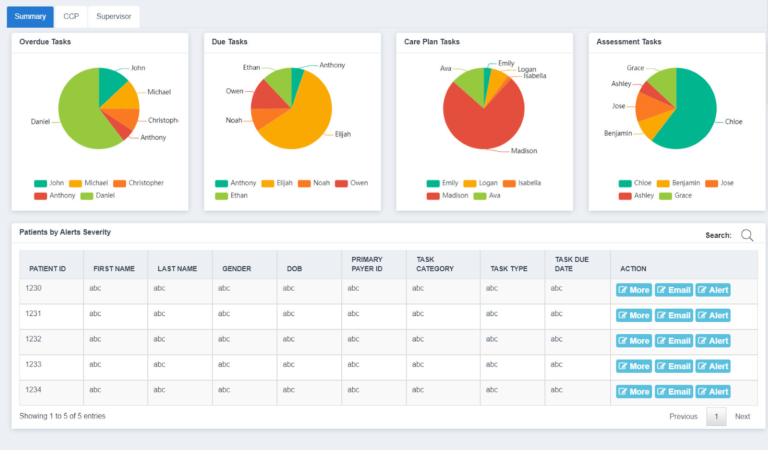 Pyramid offers a wide range of Visualization capabilities in the Discover, Present, and Illustrate Modules with a wide range of charts and Graphs. It has features like Time Intelligence, a wide range of formulae capabilities, better representation of GeoSpatial Data using inbuilt Maps capabilities. It also has the capability of Explain where we can ask questions to get the information needed and it provides the results using NLP. Users can also set alerts based on dynamic conditions without any coding, unlike Pentaho and other Pentaho alternatives. Using the powerful Publish module, you can create data-driven graphics, text, and visual elements which can be scheduled and delivered to users via email as PowerPoint, Word, Excel, PDF and other formats.

Pentaho supports more than 45 Databases using JDBC & JNDI  including the ability to retrieve information from Google Analytics and Salesforce. Pentaho Server also provides a Database connection wizard to create custom data sources. Details can be found here.

Pyramid Analytics also offers a wide range of data source connectivity options using JDBC, ODBC, OLAP(Microsoft Analysis Services, SAP HANA, SAP BW) and External applications like Facebook, Twitter & Salesforce. It provides an easy wizard to retrieve and Mash the Data by creating a logical Sematic layer. 
It should be highlighted that out-of-box connectivity to SAP HANA and BW makes it easy for SAP users to modernize their Analytical solution using Pyramid Analytics. You can find more details here.

Pentaho has two Design tools which help end-users to create the Meta Data required for Ad Hoc Reports creation – Schema Workbench and Metadata Editor. Schema Workbench helps in creating a Mondrian Schema which needs an underlying Database in Star Schema. This is OLAP technology and needs MDX language to query data.  Metadata Editor is used to create a Metadata model which primarily transforms DB physical structure to a business Logical Model.
The Pyramid Metadata layer is managed using the Model component. Everything in the Pyramid revolves around the Model. The model is highly sophisticated which facilitates all visualization capabilities. Pyramid Models are easy to create and can be created with no or little database changes. The model creation process comes with lots of Data preparation, Calculation features. The model also mimics OLAP concepts and more. 

Pentaho product suite has module Weka that enables predictive analytics features like data preprocessing, classification, association, time series analysis, and clustering. However, there's some effort to bring the data to nice visualization and then to consume it in the context of other analytical artefacts. The process is not easy to achieve with other Pentaho alternatives, but Pyramid Analytics solves this with an out-of-the-box solution. 
Pyramid has out of the box predictive modelling capabilities as part of the whole analytical process which can be executed seamlessly. To facilitate the AI framework, Pyramid comes with tools to deliver machine learning in R, Python, Java, JavaScript, and Ruby (with more to be added in the future)
Natural Language Processing

Pentaho can be integrated with external tools like Spark MLlib, Weka, Tensorflow, and Keras but these are not suitable for NLP use cases. The same is the case with many other Pentaho replacement solutions.
Pyramid's Explain and Ask Question using Natural Language Query (NLQ) however supports easy text-based searches, allowing users to type a question in conversational language and get answers instantly in the form of automatic data visualizations. Users can enhance the output by customizing the underlying semantic model according to their business needs.
Native Mobile Applications

Considering today's need by Business users to have instant access to Information and Data to make quick decisions and the fact that Mobiles are the de facto mediums, it is very important to deliver Analytical content including the KPI on the go and when offline. This can be achieved by the support of access to data on mobile devices. This is achieved by responsive web interfaces and mobile apps.
Pentaho doesn't have a native mobile app but we can deliver Mobile-friendly content. using a mobile browser. 
Pyramid, on the other hand, offers a native mobile app and one of the best Pentaho alternatives that empower Business Users on the Go. The app can be downloaded from App stores.
Admin, Security & Management

User. Roles and Folder/file management is done by PUC(Pentaho User Console) when logged in as Administrator. Your predefined users and roles can be used for the Pentaho User Console (PUC) if you are already using a security provider such as LDAP, Microsoft Active Directory (MSAD), or Single Sign-On. Pentaho Data Integration (PDI) can also be configured to use your implementation of these providers or Kerberos to authenticate users and authorize data access.

Clustering and Load balancing need to be configured separately for PDI and BI servers.  The server is a Tomcat application so the clustering and load balancing generally follows accordingly. Upgrading the server version needs to follow an up-gradation path which involves possible changes to content artefacts. 

Pyramid has multiple layers of security which makes it very robust and offers secured content delivery. It also facilitates third-party security integration like Active Directory, Azure LDAPS, LDAP, OpenID and SAML. Pyramid has Advanced Administration with simplified Security handling, Monitoring, Fine Tuning, and Multi-Tenancy management without the need to edit and manage multiple configuration server files as in Pentaho. 
All can be done using the Browser by an Administrative user. Pulse Module which helps Pyramid Server hosted in the Cloud securely connect into Data repositories on-prem. Distributed Architecture inbuilt which offers easy dynamic scalability across Multiple Servers with Load Balancer built-in.
Conclusion 
With Pyramid ranking ahead of Pentaho in most of the features and capabilities, it is not surprising that it is rated so highly by all the analysts and it is a no-brainer to select Pyramid as your next-generation Pentaho replacement Enterprise Analytics and Decision Intelligence platform. More details on Why to Choose a Pyramid is provided here. 
We only covered the high-level aspects and differences with Pentaho as part of this article. In the next article, we delve deeper into the individual components and walk through how each of them from existing Pentaho-based solutions or Pentaho alternatives can be migrated into Pyramid by giving specific examples. 
Please get in touch with us https://analytics.axxonet.com/contact-us/ if you are currently using Pentaho and want assistance with migrating to the Pyramid Analytics Platform.